Fresh Scents Make Your Home Seem Welcoming
Photo: © Cagri Özgür - iStockphoto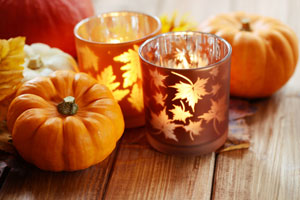 Test your home's aroma by going outside for at least ten minutes, and then re-enter with your olfactory senses on high alert. What strikes your nose first? Visitors make snap judgments, sometimes subliminally, based on what they smell as they walk through your front door. Any effort to improve the visual greeting will crumble a bit in the face of unpleasant odors. Read on for the best way to create a welcoming aromatic atmosphere.
Identify, Eradicate, Cleanse
Once you've received a bad odor diagnosis in your home, search for the source. Common culprits for a stinky atmosphere include fetid garbage, cigarette smoke, spoiling food (rotting potatoes!), mold and mildew, and the detritus of pets.
Keeping a consistent cleaning schedule is usually all that is needed to maintain fresh air. Simply doing the dishes right after a meal can keep stale, souring smells from lingering. Use these tips to keep your home fresh between cleaning days:
• Process lemon slices in the garbage disposal.
• Sweeten drains by dumping ½ cup baking soda, followed by ½ cup white vinegar.
• Put a layer of kitty litter and baking soda at the bottom of garbage bins.
The Big Offenders
Cooking smells are challenging to dispel with no vent hood to absorb them, especially when fried foods send up air-born oily particles that cling to surfaces. Vent hoods cost as little as $200, and are worth the cost. There is no neat solution for indoor tobacco smoke, however. The residual smoke stubbornly clings to every surface in the home―furniture, textiles, clothing―making your home and everything in it worth less.
Quick, Natural Spritzes and Fixes
• Place a drop of peppermint oil on the rim of the toilet and inside the toilet roll.
• Put unused dryer sheets inside each hamper of dirty laundry.
• Throw fresh green apple slices into emptied trash cans.
• Brew a pot of coffee.
• Bake cookies from refrigerated dough.
• Spritz the air freely with a spray bottle of three cups white vinegar, one cup water, and a few drops of one of your favorite essential oils: lemon, lavender, or rosemary.
Fumigating your home with cover-up fragrance just before company arrives is ineffective, and could worsen the situation as it co-mingles with existing problem odors. Clean and maintain your home, and when appropriate, add light fragrance from quality brands of candles, reed diffusers, or oil warmers in popular scents. According to the National Candle Association (candles.org), vanilla remains (after a decade) the most popular candle fragrance in the U.S. Other well-received scents are cinnamon, citrus, and rose.