The Pros and Cons of Adjustable-Rate Mortgages
Photo: © Cultura Photography - Veer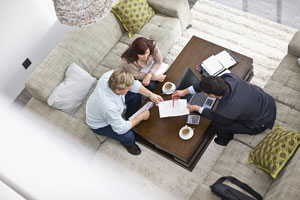 When it was revealed that Facebook founder Mark Zuckerberg had refinanced his home with an adjustable-rate mortgage, many people could not figure out what was more shocking: a multibillionaire taking out a loan on a $7 million house or the 1.05 percent interest rate that Zuckerberg received on the loan.
With interest rates at historic lows, adjustable-rate mortgages do not seem to offer much of an advantage for potential home buyers. Of course, for someone as rich as Zuckerberg, the risks are essentially nonexistent. If interest rates suddenly spiked, he could easily pay off the mortgage; alternatively, he would benefit from significantly below-market interest payments if rates remained low.
Most people cannot get the same sweetheart deal when it comes to adjustable-rate mortgages, but they can still get a really low interest rate that could save them thousands of dollars in interest costs over the duration of the loan. Currently, an adjustable-rate mortgage that has a fixed interest rate for the first five years is under three percent.
However, when this rate is compared to the terms of a fixed-rate loan, the benefit of an adjustable-rate mortgage seems less clear. For instance, 30-year fixed-rate loans are now being offered for under 4 percent, and 15-year fixed-rate mortgages have an interest rate that is just 0.13 percent higher than the current rate on the five-year adjustable-rate mortgage.
Given the absurdly low rates on fixed-rate mortgages, the question is obvious: why would anyone accept the risks associated with an adjustable-rate mortgage? Although the Federal Reserve has asserted that it will keep interest rates low for at least the next two years, there is no guarantee that they will be able to suppress rates indefinitely. In fact, they may have little room to maneuver if the bond market ever becomes skittish about the long-term ability of the U.S. government to finance its debt.
When seen in this light, it would seem as if people who choose adjustable-rate mortgages are receiving little benefit for the tremendous amount of risk that they are accepting. Indeed, if interest rates did substantially increase over the next five years, homeowners could see their finances ruined by ballooning mortgage payments.
It should be noted, however, that fixed-rate mortgages also come with their own set of risks. Specifically, these mortgages impose a potential opportunity cost on homeowners: If interest rates do remain the same―or decline even more―adjustable-rate mortgages would be the better option. In this case, fixed-rate mortgages would simply lock homeowners into a higher interest rate.
Although it may seem that interest rates could not possibly get any lower at this point, many experts have been making this claim for years, yet interest rates have defied all expectations by continuing to decline. For anyone who thinks that interest rates must eventually increase, Japan provides an illustrative counterexample. In 1996, the Bank of Japan lowered short-term interest rates to less than 1 percent. Sixteen years later, interest rates still remain below that threshold.
Ultimately, an adjustable-rate mortgage is a speculative bet on the future direction of interest rates, while a fixed-rate mortgage can be considered an insurance policy against future rate increases. When choosing between them, homeowners must carefully weigh their options and decide how much risk they are truly willing to assume.