5 Updates that Add Space to a Bathroom
Photo: © Kuznetsov Alexey - Shutterstock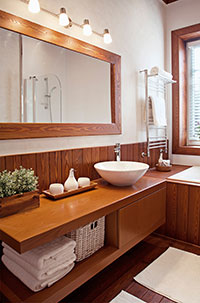 Bathroom renovations have become very popular over the last decade. And there are more and more options available—some at considerable expense. The bathroom has inspired a long list of design innovations. Here are the top five renovation ideas that you should consider when redoing your bathroom.
1. Sliding bathroom door.
A door that slides into the wall cavity saves space, because it's not necessary to leave sufficient space inside the bathroom for a hinged door to swing open. It's a cool feature that offers visitors a first taste of the style of your modern bathroom.
2. Shelving built into the walls.
Whether it's in the form of inset shelves for shampoo and soap in the shower enclosure or larger shelves built into the bathroom walls for the medicine cabinet (closed) or for towels (open), this is a great idea, and another space-saver. The recessed shelving can't be broken or bent, and it enhances the clean lines of the overall room design.
3. Wall-mounted vanity and sink.
Floor space is saved by having both items—whether stacked or separate—mounted only on the wall. It's a sleek look and makes cleaning the floor much easier. Besides, who wants to bend down to the bottom shelf of a vanity that rests on the floor?
4. Rainfall showerhead.
These big, round (or square) showerheads mounted in the center of the ceiling of the shower enclosure offer a truly luxurious shower experience, totally unlike that produced by the small side-mounted variety that we all grew up with. It makes showering fun as well as efficient—since the water is hitting a large proportion of your body at the same time.
5. Glass shower doors.
Whether hinged or sliding, these are a vast improvement on the shower curtain system. Curtains are almost impossible to clean (so mold develops) and often look disheveled. The glass doors look—and are—cleaner and more stylish, and they open up the bathroom space visually because of their transparency.