Curb Appeal Tips to Prepare Your Home for the Spring Market
Allison / Adobestock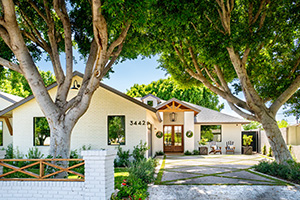 When it comes to selling a home, curb appeal makes a big impression. Buyers are looking for a well-maintained home, and the first thing they will notice is the appearance of the outdoors. That's why staging the exterior of your home is just as important as staging the inside. Here are six ways to give your home outstanding curb appeal:

Power-Wash
Over time, your home's siding can accumulate dirt, dust, and even mildew. When you're preparing your home for sale, pressure-wash the siding, driveway, walkways, and vinyl fences. Consider hiring a power-wash company if you're not comfortable doing it yourself. Power washing will make your home's exterior look like new.

Maintain Your Landscaping
One of the most important exterior staging tasks is keeping your landscaping well maintained.
✓ Reseed any bare patches of grass.
✓ Remove all weeds and rake your yard often.
✓ Edge your flowerbeds and add fresh mulch.
✓ Trim overgrown shrubs and tree branches.
Add Extra Color
Planting flowers will welcome buyers and make your exterior pop. Flowers are a great way to add a splash of color to your deck or patio. Plant annuals in decorative flowerpots or in planting beds or hang flower baskets over your porch.

Declutter and Stage Your Backyard
A well-staged yard can make a sale. Part of staging any home, including the outdoors, is depersonalizing the space. Get rid of backyard clutter, such as children's toys, gardening tools, and lawn decorations.

Use Outdoor Furniture
Many buyers want to make their patios and decks an extension of their living spaces, so consider setting up furniture outdoors. Use a dining table to create an eating area or an outdoor sectional to create a lounge area. A patio umbrella and an outdoor rug will give the space a roomlike feel. Arrange everything with plenty of walking space—you don't want your patio to feel cluttered.

Update Your Entry Door
Giving your entry door a facelift is a simple, inexpensive project. Paint your entry door a fresh color to complement the rest of your exterior. Install eye-catching new door hardware and refresh your house numbers and porch light if they are outdated. Finish the look with a welcome mat and decorative wreath.