Five Basic Things to Consider Before Starting a Remodel
Photo: Andresr / iStock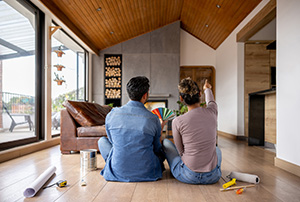 Home renovation projects are exciting. You finally have the time and energy to redo that outdated bathroom or turn your drab kitchen into a picture worthy of Instagram. But there is more to consider than just deciding what paint color you're going to use or how a certain tile will look in the bathroom. Keep these five tips in mind before starting the renovation process.

Look at the Original Architectural Style
Always take into consideration your home's original architectural blueprint before tackling any home improvement projects. For instance, if you suddenly decide you really love the popular farmhouse look, but your home's architectural style is well suited to Mediterranean, the farmhouse-inspired home improvements will clash with your Mediterranean-style home.

Understand Your Family's Needs
Function should always be your first consideration. A room can be picture-perfect, but if it doesn't function well for your daily needs, it will create frustration and more problems. For example, a room filled with expensive antiques and snowy-white upholstered pieces probably won't work well for a family with small children and a pair of black Labs. Consider your family's specific lifestyle and how it will affect your home.

Consider Seasonal Issues
Expanding your concrete patio is a great home improvement project—unless you decide to tackle it just as the rainy season begins. Want to put on a new roof or repaint your home's exterior? Think about the best time of year in your geographical location before initiating any outdoor projects, and plan for possible weather delays.

Be Cautious About Trendy Colors
It's easy to get lured into the hype created by current paint trends simply because they are announced as this year's most popular colors. But consider whether you'll still love that color in a couple of years and avoid having to spend the time and money repainting. You can't go wrong with classic, neutral paint hues, which complement any decorating style.

Create a Game Plan
Before beginning a home improvement project, make sure to create a budget and have your contractors lined up. Proper research, planning, and patience will help your home renovation go smoothly. Anticipate delays and be prepared for possible budget-busting surprises.

Are you considering some remodeling projects but want the best return on investment when you sell? Reach out for more tips and advice today!