Avoid Spooking Buyers with These Home Staging Reminders
Spiroview Inc. / Adobestock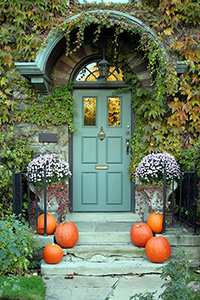 Some things are so off-putting to people, they should be avoided at all costs. Here are six potential disasters you may not have considered during your staging preparations.
Noticeable Odors
Every home has its own distinct odor, and you probably no longer notice your own homeís. Donít use perfumed air fresheners to cover up odor, since many people are allergic to these sprays. Instead, deep-clean your home, including your carpet and upholstery, to remove ingrained odors from pets, cooking, or tobacco.
Presence of Pets
Some people have a genuine fear of animals, and others have allergies to them. So plan for the animal members of your family to take a short vacation before any viewers arrive. Remove all visible traces, such as feeding bowls, toys, and beds.
Secrets or Mysteries
A basement or closet may be too messy to show off with pride, but donít think you can lock the problem away out of sight. A viewer expects to see the entire property, and closing off any section for any reason comes across as secretive and shifty. If youíre not proud of a certain part of your home, simply do what you can to improve it.
Sports Memorabilia
Sports can incite strong passions in the biggest fans. And while you may think a few team posters might look harmless enough, it can send an immediate adversarial message to someone who doesnít share your affiliation. And even people who have no strong feelings about sports will find memorabilia a turnoff.
Edgy or Symbolic Artwork
Home staging should appeal to as wide of an audience as possible, so play it safe with your choice of artwork and decor. Even something as innocuous as a historical flag or portrait could be off-putting. Take a hard look at all the artwork and other decorations around your home and remove anything thatís overtly political, too edgy, or potentially offensive.
Signs of Infestation
Even the cleanest home can suffer from pest problems, but thatís not something potential buyers want to acknowledge during a viewing. If you have ants in your home, donít think that leaving ant traps around shows youíre a conscientious homeowner whoís dealing with the problem. Make sure any infestations are fully cleared and have left no signs behind before allowing a viewing.
Want more tips to avoid making home staging mistakes that turn off buyers? Contact me today.