Start the New Year by Getting Your Finances in Order
zatevakhin / Adobestock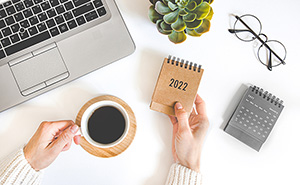 Starting a new year is the perfect time to review finances and set goals. Here are seven financial wellness tips to consider in the new year.

Pay Off High Interest Debt
Binging on Black Friday deals or charging gifts to credit may be fun over the holidays, but the expensive credit card bills that show up in January are not. Get your finances in order by making a plan to pay off high-interest debt.

Tax-Advantaged Savings
Participating in your company's 401(k) plan or opening an IRA can lower your taxes now and improve your retirement later. If you already have a 401(k), consider increasing your contribution.

Consider an FSA
If you have predictable health care expenses or plan to spend more in the year to come, a flexible spending account will benefit you by lowering your tax bill.

Open an HSA
If you have a high-deductible health plan, you're eligible to open a health savings account. HSAs provide upfront tax breaks, as well as long-term tax-free growth and tax-free withdrawals for allowable health care expenses.

Find the Best Interest Rate
You work hard for your money, and your money should return the favor. Shop around for a higher interest rate on your savings account.

Monitor Your Credit
Look over your credit report for errors and review your credit score. Your credit profile will impact the interest rate you pay on loans, and improving your score could save you money.

Review Beneficiary Designations
If years have passed since you set up your retirement account, your beneficiary designations may be outdated. Marriages, divorces, and other life events impact the choice of beneficiary, so review your documents and make sure everything is current.