Design the Outdoor Living Space of Your Dreams
Image: bmak / Adobestock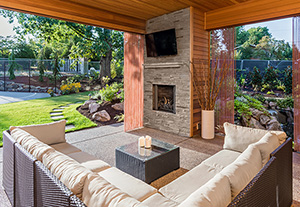 There's nothing better than being outdoors with friends and family during the summertime. Maximize your enjoyment of nature at home by building a fabulous outdoor patio to spend your summer outside. Use these design ideas to create comfort and functionality.

Protect the Area from Rain and Sun
A patio cover will protect you and your guests from the harsh elements. If you can, have your patio cover built to look as if it has always been a part of your home. Attach it to your house with construction that matches your home's roof. Wood is an excellent choice for a gorgeous, natural patio cover that will hold up for many years.

Keep Cool with Fans
Installing one or more outdoor ceiling fans under your patio cover will help you stay cool during the hot summer months. Fans are also fantastic if you have pets that spend a lot of time outside—they will feel much cooler under a fan.

Add Some Fire
Having an outdoor fireplace means you can spend even more time on your patio when the sun goes down and the temperature drops, or you can feel comfy in front of the fire on days when it merely doesn't get as warm. If you do not want a full fireplace, consider a fire pit.

Make Space for an Outdoor Kitchen
It's enjoyable to cook outdoors in the summertime, so you'll max out your patio usage over the summer months if it has options for cooking. This could be as basic as a grill for cooking meat and vegetables or as elaborate as a built-in pizza oven. Design a stone countertop with an outdoor sink for extra workspace. You can also add waterproof cabinets that are designed to withstand the elements so you can organize all the items you want to store outside.

Dine Alfresco
Add a table with ample seating for your family to eat and entertain outdoors. Cushioned chairs or other furniture set around your fireplace or fire pit will create a cozy conversation space. Sprinkle a few accent tables near seating for guests to set their drinks and snacks on.

Create a Cozy Atmosphere
String pretty lights above your patio or add tiki torches for evening lighting. Music is essential to set the mood, so install a sound system or buy portable speakers to stream your favorite playlist for a relaxing summer dinner party. Add lively greenery and color with hanging baskets and flower planters around your patio area.