Should You Pay Extra for a Home Warranty?
Image: Rido / Adobestock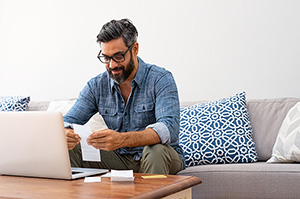 A home warranty provides homebuyers with financial protection and peace of mind. It can be especially beneficial for someone investing in an older home. If an appliance or system covered under the warranty malfunctions or fails, then it will be repaired or replaced at no cost?except for the cost of service.

While some sellers include home warranties in the sale, others do not; in which case, you may want to consider buying a home warranty on your own.

What Does It Cover?
A basic home warranty will typically provide coverage for the homeís plumbing system, electrical system, heating system, water heater, ceiling fans, garbage disposal, exhaust fans, and some of the kitchen appliances. Enhanced home warranties will often provide additional coverage for washing machines, dryers, garage door openers, air conditioners, and other kitchen appliances. You can also add on individual components such as pools, septic systems, and more for additional fees.

How Much Does a Home Warranty Cost?
A basic home warranty will typically cost between $300 and $600 per year. This means that when a seller includes a home warranty with the house, itís actually a nice perk, especially if itís an enhanced home warranty that provides even more coverage. Keep in mind that even though you may receive a free warranty, youíll still have to pay a service fee for every repair or replacement you request.

What Are the Cons?
If the seller isnít including a home warranty in the sale, then youíll need to buy a home warranty on your own. If youíre buying a newly built home, itís unlikely youíll benefit from the home warranty, simply because the systems and appliances are nearly new. Itís also worth noting that home warranties will not cover appliances or systems that were already broken when you purchased the house. Additionally, you wonít be able to choose your own repair person and are limited to the repair person selected by the warranty company. You also wonít be given the option to repair or replace. If repair is possible, that is the course they will typically take even if replacing it makes more sense.