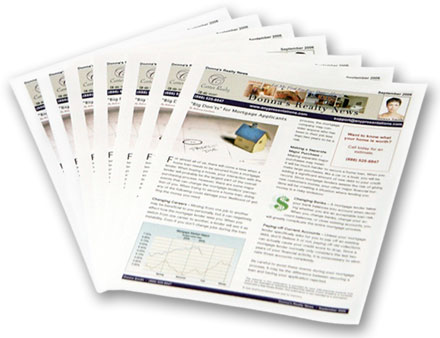 Any Presentations offers quality color and B&W printing at competitive prices. For an immediate quote on our printing services, use our convenient print calculator.

The two page, double sided, 11x17 newsletter, with no additional options, includes a single centerfold; the one page, double sided, 8.5 x 11 brochure is not folded. Your newsletter order is shipped to you USPS Priority Mail.

Selecting all of the additional options will include addressing (email us your mailing list in Excel readable format), folding, tabbing and mailing the newsletters directly to your list of clients. If you provide your own postage permit number, your completed newsletters will be sent back to you so they can be mailed from a local Post Office.

The processing time for print orders is 7-8 business days. Any Presentations will bill the total amount due to the credit card or bank account number that is on file for you. For a different payment method, please contact us.

*Offer valid for printing, tabbing and addressing only and does not include 10% off the full service mailing option. This promotion is applicable for one printing from AnyPresentations print services, and may not be used for prior purchases, sale items, or combined with any other offer.