Five Reasons to List Your Home Now
Image: Stephanie Frey / AdobeStock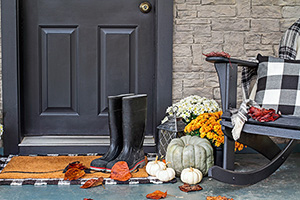 As the holidays approach, there are typically fewer homes listed for sale since fall and winter are considered the slow season for home sales. But times arenít exactly normal; in fact, home sellers should consider putting their homes on the market now. Here are five reasons why:

1. There Arenít Enough Homes for Sale
The number of homes on the market is at or near an all-time low, according to the National Association of Realtors, down 18.6% compared to the same time last yearóand the inventory was low then! Fewer homes for sale means sellers have less competition and a higher completed sales rate on accepted offers.

2. Mortgage Rates Are Low, and Home Prices Are Up
A short supply of homes for sale and high buyer demand, due in part to extremely low mortgage interest rates, is driving home prices up; therefore, buyers can afford more and houses can sell above asking price.

3. Buyers Arenít as Picky
Itís a sellerís market, and homes are selling faster than usual. The national average time on the market is 22 days, and with available homes being snatched up around them, homebuyers are less picky. When inventory is tight, buyers tend to make fewer demands and sometimes even waive contingencies. They might be more willing to compromise on the condition of a home, and they are generally more flexible in negotiating.

4. People Are Looking to Relocate
With more people working from home, fewer people have to worry about long commutes to work. Potential homebuyers who want more space but have resisted moving outside urban areas donít feel the same pressure if theyíre working remotely. Cities in America have seen a population shift from urban areas, especially city centers, to more suburban living in 2020.

5. Safety Is a Top Priority
The real estate industry has made safety a top priority, using the internet for virtual tours, open houses, and even closings. When the process is conducted in person, hand sanitizer, face coverings, and social distancing are required. Buyers are asked not to touch anything, and windows are left open during showings.

If youíre considering selling, donít wait until the spring. Itís a sellerís market, which means that now is the right time to list your home for sale.