Shopping Locally Helps Support Your Community
Image: StockMediaProduction - Adobestock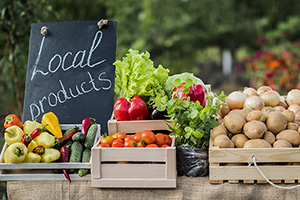 Once upon a time, consumers shopped at the butcher for meat, the drug store for pharmaceuticals, and the grocer for vegetables and food staples. Now you can have the tires changed on your vehicle while you shop for groceries and your teenage daughter browses clothing on the clearance rack—all under the same roof. But turning your attention to the mom-and-pop shops just around the corner from your house or the summer farmers market in a local lot on Saturdays can benefit everyone. Keeping these independent small businesses alive is in your community's best interest. Here's why:

Increases Property Value
Your neighborhood's walkability to nearby shops affects your home's value. Having amenities within walking distance boosts your property value by thousands of dollars. Shopping locally keeps small-town farms, artisans, and employees working. When you buy from the people who live near you, supporting local government and independent businesses, you boost the vitality of your community and make it an attractive place to live.

Boosts Your Local Economy
Frequenting stores within a few miles of your home saves you time and gasoline. When you shop from businesses that sell products from local sources, like small farms, it's a joint effort of saving your hard-earned money and giving back to your community. Your consistent business to local shops also means the products are there when you need them, virtually a walk or bike ride away. If they don't carry what you need, ask your local shop if they will stock it for you.

Creates Beneficial Connections
The shops and businesses around your home are part of your community. Independent owners have more freedom to work with a customer and develop a beneficial relationship. A lot can be said for good service and the willingness to make a deal with a business that really knows you. Shopping locally makes a difference not only in helping a community survive but also helping it thrive.