Home Improvements That Give the Highest Return on Investment
Image: Susan Vineyard - Adobestock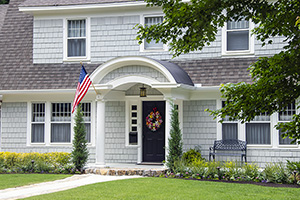 When youíre selling a house, making improvements beforehand can help maximize the homeís value. Even if you have no plans to relocate in the near future, enhancing your living conditions makes sense. Use this information from Remodeling magazineís annual "Cost vs. Value Report" to get the best return on your investment when you sell.

Invest In Exterior Upgrades
Improvements to your homeís exterior can pay for themselves by drawing in potential buyers. If you have no plans to sell, they positively change the ambiance of your property and boost curb appeal. Adding manufactured stone veneer increases value the mostóup to 95%. This synthetic material installs just like real stone. Upgrading the exterior of a home with low-energy windows and vinyl siding is also a good investment. You can recuperate up to 75% of the cost of this particular home improvement.

Replace the Garage Door
Upgraded garage doors yield a high return (94%), but youíve got to choose the correct type. The best garage doors feature durable materials, insulation, and energy-saving finishes. Resilient garage door materials include aluminum, fiberglass, and steel. If you want the look of wood, choose composites, as real wood doesnít stand up to weather challenges.

Add a Deck in Time for Summer
Adding a wood deck usually yields a slightly larger return (72%) than composite materials (66%) because the upfront cost is cheaper. But youíll want to check with your local home improvement center because a wood deck can be more expensive to maintain. When it comes to sizing, keep the square footage relevant to the proportions of the yard and home. Generally, 300 square feet is an ideal size. Regardless of the measurements you choose, make sure to include a railing to enhance safety.

Remodel the Kitchen, the Heart of the Home
Kitchen remodels rank at the top for homeowners and buyers alike. However, bigger changes arenít necessarily better. Smaller remodels garner more returns on investments; they can repay up to 27% more compared to major upgrades. Energy-efficient appliances, updated flooring, modern countertops, and upgraded sinks with contemporary faucets make the best improvements. Modernizing the cabinets also allows for good return of costs. If you canít replace the cupboards, repaint them and add updated hardware.

Overhaul the Bathroom
Bathroom remodels follow the same guidelines as kitchen renovations. Carefully chosen updates yield larger returns than all-out, upscale remodels. It pays to upgrade counters, fixtures, lighting, tiles, and toilets. You can pick and choose, but itís a good idea to tackle the oldest items first.