Now Is a Good Time to List Your Home for Sale
Photo: © Andy Dean Photography - Shutterstock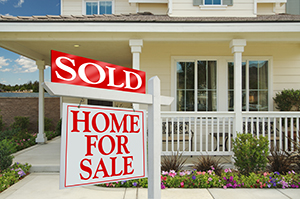 The lack of inventory is leaving potential buyers with fewer options; this results in increased competition among buyers, which ultimately drives up home prices. At the end of December, there were 1.4 million units available for sale, down 14.6% month over month and 8.5% year over year. At the current sales pace, December's unsold inventory would supply the housing market for only three months. In comparison, there was a 3.7-month supply both a month ago and a year ago. What's more, for the past seven months, unsold inventory totals have declined year over year. According to Lawrence Yun, chief economist for the National Association of Realtors, "Home sellers are positioned well, but prospective buyers aren't as fortunate. Low inventory remains a problem, with first-time buyers affected the most."

Low Inventory Means Higher Home Prices
The lack of inventory that has been plaguing the housing market for the past few years is showing no sign of letting up. This puts sellers in an ideal position; the tight inventory is causing home prices to climb rapidly. For the 94th consecutive month, home prices have risen year over year. Every sales region in the country posted price gains in December. According to Yun, "Price appreciation has rapidly accelerated, and areas that are relatively unaffordable or declining in affordability are starting to experience slower job growth." To avoid this unfavorable outlook, price appreciation should slow down to around 3%, which would be in line with wage growth.

Who's Buying?
According to NAR's "2019 Profile of Home Buyers and Sellers," first-time buyers accounted for 33% of all home purchasers. Individual investors and second-home buyers, who typically buy homes with cash, made up 17% of the buying public in December; this was up from 16% a month earlier and 15% a year earlier. In total, all-cash sales accounted for 20% of all home transactions in December, which was unchanged from November but down from 22% in December 2018. The average property remained on the market for 41 days in December. This is longer than the 38 days on market recorded a month earlier but shorter than the 46 days on market recorded a year earlier. Of all the homes sold in December, 43% were available for less than a month.

Regional Sales Breakdown
Month-over-month sales increased in the Northeast, South, and West regions of the country in December. Every region reported gains in year-over-year sales. Median home prices also climbed in all regions, with the Midwest showing the strongest price gains.