Fun Holiday Gift Idea: Homemade Seasoned Butter
Photo: © Barbara Pheby - AdobeStock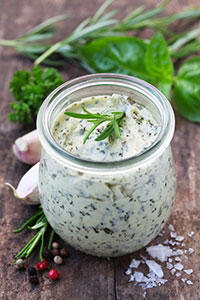 Do you spend hours baking cookies for the holiday season? Worse, do you feel guilty for showing up at the company party with store-bought products, while your coworkers clearly took extra time preparing that scrumptious casserole? Maybe you're wondering how you can possibly buy gifts for everyone on your list this year. Whatever the case, seasoned homemade butter is a tasty gift your recipients will simply eat up.

Sure, anyone can buy butter at the store, but they will never be able to purchase these butters. Just one quart of heavy cream and a bit of creative flavoring will make nearly a pound of the delectable stuff. Better yet, it's easy to do!

How to Make Fresh Butter from Cream
Pour the entire carton of heavy cream (16 oz.) into a large mixing bowl. Using a whisk attachment, start with low speed. As the liquid thickens, increase the speed gradually to avoid spatter. Experienced cooks will recognize the "soft" and "firm" peak stages, but even if you've never heard of them, you'll be fine. Just keep mixing.

The frothy white mix will progress from a creamy liquid to a whipped-cream consistency to a clumpy glob that starts yellowing. The mixer will churn this into butter quickly. Turn your speed back down to low to prevent giving your kitchen a milk shower.

You'll notice buttermilk separating from the butter. This isn't quite the same as buttermilk sold in stores, but it can be used in place of regular milk in other recipes you may be making. Once it appears that most of the buttermilk has been removed from the butter, you'll want to rinse the butter in cold water and massage it gently with your fingers or the back of a spoon to squeeze out any remaining milk, which can cause your butter to sour prematurely.

Not feeling adventurous enough to make butter from scratch? Skip that step and buy a pound of unsalted butter to create your seasoned ones.

Soften the Butter. Let the butter come to room temperature, then whip it with a spoon or an electric mixer until it is soft.

Add Flavors. Now comes the fun part—adding flavor. Garlic and herb seasoning can be added to taste if you'd like to create an elegant addition for the dinner table. Brown sugar and cinnamon produce a delectable toast spread to brighten any day. A tiny bit of honey makes a fantastic biscuit topping. Experiment with finely chopped chives, nuts, or fruit, but be careful about changing the consistency of the butter.

Make a Pretty Present. Now you're ready to wrap your seasoned butter. Buy decorative, small glass jelly jars and fill each jar with the seasoned butter. Use the back of a teaspoon to smooth and press the butter. Cut a square of fabric and tie it around the lid with a pretty ribbon.

Note: To ensure freshness, butter may be frozen for weeks before gifting.

Find more seasoned butter recipes at www.tasteofhome.com/article/easy-flavored-butter-recipes.