Style Your Walls with Eye-Catching Accents
Photo: © Ivan Kmit - AdobeStock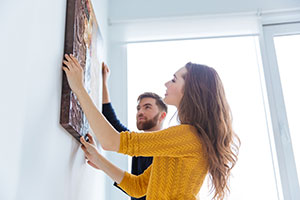 Styling your living space with wall art is actually as exciting as choosing furniture or other accents for a home. Here are some simple and smart modern wall décor ideas that are truly inspirational.
Do-It-Yourself Wall Décor

Designing a home involves a lot of aspects, including furnishings, flooring, and beyond. It's why walls are often an afterthought. Keep these wall décor DIY projects in mind and you will instantly bring that space to the forefront.

1. Invent your own art gallery on any wall by printing and grouping together favorite photos from your smartphone. Use inexpensive, different-sized frames and turn any room into a showplace.
2. Tap into your inner traveler and give life to old maps by placing them in frames and arranging them in groups.
3. Hang baskets or hats to create three-dimensional wall accents. This looks chic behind a headboard, in a stairwell, kitchen, or foyer.
4. Antique plates and bowls or those with sensational colors or patterns make for delightful wall décor in a kitchen, foyer, bathroom, or bedroom.
5. Take one of your favorite photos and make a large print. Then, divide it into two or more sections. Put each section in a different frame and that big empty space is suddenly an attention-getter.
Pretty As a Picture

Another simple way to complement your room design and take away a blank space is to decorate the walls with works of art. The key here is to choose art that speaks to you personally. Art doesn't have to be pricey to be valuable. A painting merely needs to bring you pleasure. You can find a great painting at a garage sale. If the painting warms your heart and it fits with your decorating style, then go for it.

Wall décor paintings can be hung individually or grouped together. Just like with printed photos, you can stage an art gallery of sorts right in your own living room.

Remember, paintings should always be hung at the eye level of an individual that stands between 5 feet, 6 inches and 5 feet, 8 inches tall. Basically, paintings should be enjoyed without having to look up.

Say It with Shelves

If you're staring at a blank wall and coping with storage issues, think shelves. A functional and stylish arrangement of shelves gives the open space a purpose. Pick shelving that complements room and furniture choices. Once the shelves are up, decorate them accordingly with books, photos, and more, being careful to avoid overstuffing them. Packed shelves look cluttered, not inviting.

When it comes to bold wall accents, it is okay to think outside the box. Sure, classics like framed photographs and paintings will always look fabulous, but remember it is also okay to dare to be different by dressing up blank wall space with a funky floor lamp, a chic tapestry, or even a classic wooden ladder.

Don't let empty walls intimidate you; let them inspire you instead.