Try These Tips to Cozy Up Your Home for Fall
Photo: © Photographee.eu - AdobeStock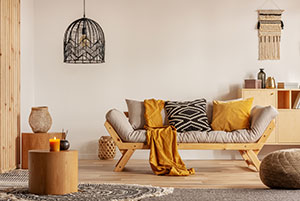 The start of a new season is the perfect time to refresh your home décor for the months ahead. As the season changes and the days grow shorter, family and friends alike will look forward to gathering in the dining room for hot meals and curling up in the living room to watch football. A few simple décor changes will go a long way toward creating a cozy home environment this fall.

Add a Few Candles.
Candles are a quick, inexpensive way to add comfort and warmth to any room in the house. Swap out your summer fragrances for fall scents, such as cinnamon and bonfire. Experiment with grouping candles of different sizes to create visual interest amid your home décor. Always make sure to smell candles before purchasing them, as many candles are strong and not suited to everyone's tastes. Place candles out of reach of young children and pets, and extinguish them before going to sleep or leaving the house.

Put Out Throw Blankets.
A generous selection of throw blankets in the living room, den, finished basement, or other hangout space encourages everyone to tuck in for movie night or the big game. Choose seasonal colors and patterns to play up the autumn aesthetic in your home. Store blankets in an ottoman or basket when they aren't in use so they don't clutter up your living spaces.

Switch Up the Throw Pillows.
Once you've stocked up on throw blankets, select throw pillows to coordinate for the autumn season. Investing in high-quality pillow inserts and then swapping in new covers periodically is a simple way to keep your décor fresh for a fraction of the price. It's also a lot easier to store pillow covers than full pillows. Look for throw pillow cover designs with warm fall colors, seasonal themes, and fun patterns, such as chevrons and circles.

Layer Your Blankets and Throw Rugs.
Layering blankets on the sofa and beds and throw rugs throughout the house creates visual interest while making the house warmer. Your feet will appreciate the extra layers, and you'll always have a blanket handy on chilly nights. Be careful not to mix too many patterns, otherwise it will look cluttered and be distracting. If you have one blanket with a vivid pattern, pair it with a solid-colored blanket.

Change Out the Curtains and Drapes.
Lightweight bamboo Roman shades and breezy curtains are ideal for the summer months. As the weather cools down, though, think about swapping out your lighter window coverings for heavier alternatives, such as thick, full-height curtains and drapes in darker colors. Many draperies also layer perfectly over lighter window treatments, such as hanging drapes over bamboo shades.

Prepare Warm Soups and Desserts.
Nothing is more inviting than coming home to the smell of beef stew or apple pie. Most soups and stews can be prepared in a Dutch oven or slow cooker, both of which are staple appliances worth the investment if you don't own them already. When you're hosting a family dinner or a night in, set aside time to make pumpkin pie or hot chocolate from scratch so the house smells amazing and you have a delicious treat ready when your guests arrive.

Display a Wreath on the Front Door.
Switching up your front door wreath each season is a simple way to keep your home décor fresh and inviting with very little effort. For fall, look for wreaths that feature pumpkins, plaids, burlap, or brightly colored leaves. If you're crafty, an autumn wreath is a fun DIY project that will add a personalized touch to your home. Big box stores and big box craft stores also feature an extensive assortment of beautiful autumn wreaths.

Prep the Fireplace.
In most areas of the country, the fireplace doesn't get used much from March through October. Before you run the gas fireplace or build a fire in the wood-burning one, hire a professional to perform a seasonal maintenance check. You'll be able to get any leaks and other issues taken care of before you have a fire, greatly reducing the risk of an incident. For wood-burning fireplaces, stock up on firewood and repair or replace any worn-out or broken fireplace tools.

Cozy Up the Patio.
Most people get so focused on getting their indoor living areas ready for fall that they neglect their porches and patios. Fall often brings beautiful weather, perfect for enjoying a fire and a glass of wine outside after dinner. Keep an outdoor basket with throw blankets, pillows, and candles handy for comfy autumn evenings in the yard.

As you cozy up your home for fall, focus on the areas of the house that are most important to your family. If you spend all your time hanging out in the den instead of the living room, make sure to put a few seasonal touches in the den.