Hot Front Door Trends for Autumn
Photo: © dpproductions - iStockphoto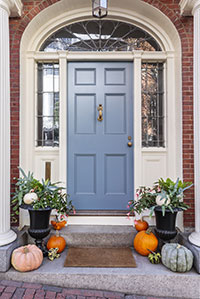 Make a statement by updating the look of your front door. Whether you opt for a brand-new entry or add a decorative arrangement as a focal point, the key is to attract eyes to your home décor style. The following are favorite front door trends for fall you can consider.

Bold Front Doors
One hot trend this season is to paint your front door with a bold and unexpected color. Mustard tones are particularly popular for the fall and winter, but you can choose anything from olive green to a vibrant cherry red. Pick a color you love that enhances your home's curb appeal.

Topiary Trees
Framing your front door with topiary trees will give the exterior of your home a fresh look. Match the pots to the paint color of your house, or choose a vibrant accent color to make your new topiary trees pop. An added benefit to this front door trend is that you can adorn your new trees with seasonal accents for the holidays.

Decorative Wreath
Choose a wreath in autumn colors to accent the look of your home's exterior. Colors like burgundy, mustard, and burnt orange are fabulous options to add a touch of autumn color to your home's front door.