Five Ways to Buy a House with Little or No Money Down
Photo: © Stevecoleimages - iStockphoto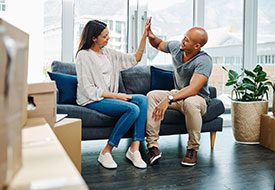 Many people believe that you must have a huge down payment saved up to get your foot on the property ladder. However, this is not the case. There are a number of programs in place that will allow you to buy a home with little or no money down.

VA Loans
If you're active-duty military or were honorably discharged, the U.S. Department of Veterans Affairs (VA) has a no-money-down program that's worth a look. The qualification process is straightforward, and unlike private lenders, the VA doesn't require mortgage insurance, which can be a major expense depending on the size of your loan.

USDA Loans
If you're not in the military, consider the U.S. Department of Agriculture (USDA), which runs a no-money-down program for low-to-moderate income homebuyers in rural and suburban areas nationwide. Unlike the VA, the USDA requires mortgage insurance in the form of an upfront fee and an annual amount, but both can be rolled into the loan and paid monthly.

FHA Loans
The Federal Housing Administration (FHA) guarantees loans made by private lenders. This arrangement enables borrowers with a poor credit history or few available funds to get approved for home loans. The FHA requires 3.5% down, but that money can come from friends, family, or other qualified benefactors.

The Conventional 97 Program
For a less expensive option, try the Conventional 97 program. It requires only 3% down and also accepts payment in the form of a gift?so long as the contributor is a relative by blood or marriage, a guardian, a domestic partner, or a fiancé.

The HomeReady Mortgage
If you don't earn enough to qualify for a traditional home loan, check out the HomeReady mortgage from Fannie Mae. This program is best for low-to-moderate income borrowers living with other people who work, as it will sum the earnings of each household member to qualify you. Like Conventional 97, HomeReady requires only 3% down.