Interior Design Trends for 2018
Photo: © KatarzynaBialasiewicz - iStockPhoto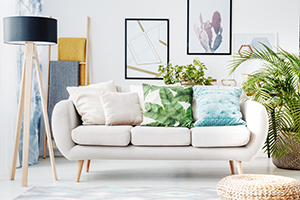 Home decor continues to be all the rage as reality TV shows about decorating, flipping, and fixing houses remain popular. This interest in interior design means that more people are keeping an eye out for trends. Here are 11 interior design trends that you'll want to check out in 2018:

Extreme Colors: Bold colors are definitely in style this year. Pantone's Color of the Year, Ultra Violet, is a bright and brilliant shade of purple that is sure to get attention. Other popular colors include jewel tones like emerald green or deep sapphire.

Black and White: All these vibrant colors create a need for some classic style. Bring things back down to earth with traditional black-and-white prints or pieces.

Curved Seating: Sofas and chairs will get curvy again, much like they did in the late '60s. Look for furniture with curved backs and asymmetrical shapes.

Earth Tones with Natural Materials: Pair earthy greens, browns, and tans with wood and other natural materials to create a warm, inviting space.

Bold Florals: Cover an accent chair in a dark, rich floral, or liven up your curtains with splashes of brightly colored flowers. Florals always have their place in home decor, but right now the prints are big and bold.

Brass Fixtures: You'll find brass fixtures everywhere, especially in bathrooms and kitchens. The finish creates a charming style that makes functional pieces prettier.

Bohemian Prints: Choose bright, fun, bohemian-inspired prints for rugs, window treatments, and accent pillows. Combine prints with similar colors, and look for fun details like fringe or pom-poms.

Colorful Lampshades: Stay on trend without making any huge changes. Bold, unusual lampshades are statement pieces this year. Take off your white lampshades and replace them with something unique and fun.

Statement Floors: The statement wall was a big deal in decades gone by, but now the focus has shifted to the floor. Create a beautiful, eye-catching floor in the kitchen, entryway, or a small area of your home.

Maps: Road maps may be obsolete thanks to navigation systems, but maps are now seeing new popularity when used as artwork. Frame and hang a map of your favorite city, vacation destination, or even subway system.

Brightly Colored Sofas: Playing it safe in interior design means choosing neutrals for large items like sofas. This year, however, sofas are being used as focal points for the whole room. Join the trend by having your sofa covered in a bright color or a happy print to draw attention and smiles.

This is an exciting year in interior design. You'll see a lot of fun and color with eye-catching accents everywhere you look. Enjoy using these trends to create a space that perfectly matches your personality.