Get Ready for Guests by Cleaning the Carpet
Photo: © Redpixel - Adobe Stock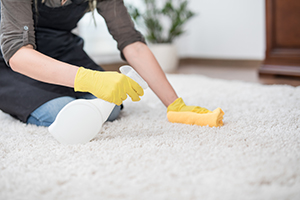 If your carpet is looking a little dingy, it may be time for a cleaning. While spray foam can do the trick of removing surface dirt, many of today's home and business owners opt for professional cleaning. Although you can rent a machine and clean your rugs on your own, hiring a professional gives you access to a more powerful machine and more thorough results.

Can You Do It Yourself?
If your carpets are only slightly dirty, steam cleaning is the ideal choice. This type of cleaning successfully removes surface dirt on wall-to-wall carpeting and area rugs. Using steam to remove dirt and pretreated stains is highly effective. The results are immediate, infusing your rooms with a renewed freshness. Little to no odor remains once the cleaning is finished and the carpets are completely air-dried.

When DIY Cleaning Won't Work
Unfortunately, carpets that have large stains caused by spills or pet accidents often require more than one treatment with a steam cleaner, particularly if you are using a rented machine. If the steam cleaner isn't powerful enough to lift all the residue from the carpet fibers, the stain will simply reappear in several weeks.

Don't Overdo It
Excessively cleaning your carpets or area rugs with a steam vacuum can affect their condition. Although you won't notice any difference in your carpets initially, you might begin to see signs of fading or weakening in the carpet fibers if you use this method more than once or twice a year.