Holiday Recipe: Maple-Glazed Sweet Potatoes
Photo © Diane Labombarbe - iStockPhoto
Serves 8–10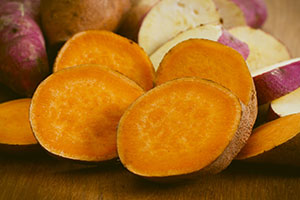 Ingredients:
3 lbs. sweet potatoes or yams
3 tablespoons olive oil
6 tablespoons pure maple syrup
salt
Directions:
1. Preheat oven to 400 degrees. Wash and scrub sweet potato skins (if using skins) or peel. Trim ends. Cut into ½ inch-thick rounds, toss in olive oil, and arrange in a 9x13-inch glass baking dish. Sprinkle with salt.
2. Place baking dish into the oven on the middle rack and bake for 20 minutes. Turn the sweet potatoes and bake another 20 minutes.
3. Remove the sweet potatoes from the oven. Pour maple syrup over the sweet potatoes, turning them and making sure to coat both sides. Bake for another 12–15 minutes, being careful not to let the syrup burn.
Transfer to a serving dish and serve warm.

Variations: Add ½ cup pecan halves when adding the maple syrup.