Five Headache-Free Holiday Hosting Tips
Courtesy of Brandpoint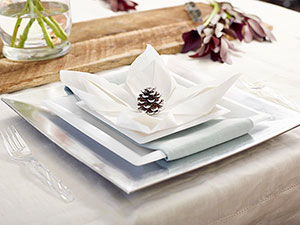 There's a reason the holidays are called the most wonderful time of the year. It's an opportunity to reconnect with loved ones over delicious food and shared traditions. But playing hostess can sometimes feel more like a burden rather than a blessing. This year, keep your holiday gathering fun, not frantic, with these headache-free holiday hosting tips.
Put time on your side.
Start your dinner prep as soon as possible to make room for any last-minute surprises, like forgetting an ingredient or unexpected guests. Developing a checklist and assigning manageable to-do's each day will help prevent you from feeling overwhelmed. For example, once the invitations have been extended, plan the menu, and gather recipes and a grocery list. Take inventory of your cooking supplies, serving dishes and tableware. While cleaning the house, identify what decorations are needed.
Know when to buy, when to DIY and when to ask for help.
From appetizers to desserts, determine what on the menu can be homemade, made ahead of time or store-bought and how guests can contribute. Figure out what is actually feasible for your meal—it's OK if you can't make everything from scratch. If you've never made homemade pie, there is no reason to put your culinary skills to the test the night before. If budget allows, buy prepared dishes or desserts from the market and place on festive platters. Find do-ahead recipes that can be stored in the fridge until they are ready to be served. By prioritizing your menu and asking for help, it will alleviate unnecessary stress and allow you to enjoy the event.
Use disposable tableware.
Instead of standing over the sink cleaning, spend the extra time celebrating with family and friends. Try using eco-friendly products, such as Chinet® plates and bowls that are made from recycled material and biodegradable in home composting—leaving you to only feel guilty about that second helping of green bean casserole.
Set the scene the night before.
Focus on setting the table, deciding where to put the drinks, and gathering extra seating and decorating the night before. That way the day of the party, you just have to worry about putting out the food and drinks. While last minute rearranging is bound to happen, conquering the planned details ahead of time will help keep you sane.
Deck the dinner table with a napkin fold.
For a sophisticated, yet deceptively easy place setting idea, consider using a perfectly coordinated line of disposable tableware and add a napkin fold as a pretty and practical accent. Although some napkin folds can be intricate, try a unique design such as a poinsettia that can be made in a matter of minutes. Include complementary greenery or pine cones for a festive touch.
For more holiday entertaining tips, décor ideas and recipes, visit www.mychinet.com.