Holiday Recipe: Pumpkin Pie
Photo: © Cathleen A Clapper - Shutterstock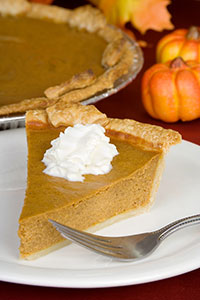 Makes one nine-inch pie
Pumpkin pies are popular around the Thanksgiving holiday. Here's a pumpkin pie recipe with a delicious twist: cream cheese!
Ingredients:
1 unbaked pie shell
¾ cup sugar
½ teaspoon salt
1 teaspoon ground cinnamon
1 teaspoon ground ginger
½ teaspoon nutmeg
8 ounces cream cheese
1 (15-ounce) can pumpkin puree
4 tablespoons unsalted butter, melted
2 large eggs

Directions:
Preheat your oven to 425 degrees F. Place the pie crust into a nine-inch pie pan. Pinch and crimp the dough around the edges into a pretty pattern. Weight the pie crust with pie weights, and bake it for 15 minutes or until lightly browned (prebaking the pie crust ensures it won't get soggy once the filling is added). Allow the crust to cool.

Reduce the oven temperature to 350 degrees F. In a food processor or electric mixer, stir together sugar, spices, and salt. Add the cream cheese, and mix until completely blended. Add the pumpkin and melted butter, and mix for at least a minute. Now add the eggs, and mix for another minute or until completely blended.

Pour the pumpkin mixture into the prebaked crust. Smooth with a spatula. Cover the outer edges of the crust with a circular pie cover, or loosely wrap with foil so the edges don't get too browned. Place the pie in the oven, and bake for 35 to 40 minutes until the center is almost set.

Chill for several hours. This pie can be made ahead and stored in the fridge for several days.