Home Improvement: What's Old Is New Again
Courtesy of Brandpoint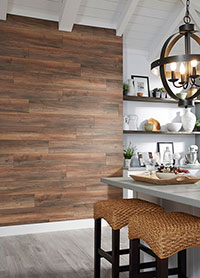 Fall is a popular time for home improvement, as people want to impress their guests during the holidays. It is also a time for change, which makes the current trends in home décor so unique.
Simply put, what's old is new again. Homeowners are gravitating to classic and timeworn elements to give their home a traditional feel.
Character is not something every home is born with. Newer construction often sacrifices some of the charm or detail of older home styles, which can be incorporated with strategic use of materials and furnishings.
Homeowners are only limited by their imagination, so here is a sampling of what can be done:
Build from the Ground Up
Install new flooring that's inspired by charming vintage floors. Retailers like Lumber Liquidators sell an array of flooring styles that mimic the look and feel of vintage woodwork—wide planks that echo farmhouse floors, distressed finishes, and much more. By replicating techniques such as wire brushing and hand scraping, distressed flooring achieves the look of vintage craftsmanship.
Rustic Charm of Wood Accents
Adding a wood accent wall can create the feel of a farmhouse or even an industrial loft. Wood can add an artistic element or focal point to backsplashes and ceilings. Whatever your goal, accent wood makes a statement.
Small Touches: Fixtures and Surfaces
Don't forget the little details: a glass doorknob, an oil-rubbed light fixture, or a stained- glass panel in the window. These touches go a long way to convey the look of an older era in a newer home.
Mixing Eras with Furniture
Antiques and classic period pieces mix well with more contemporary furnishings and create an eclectic style in a newer home. Midcentury modern elements—from architecture to furniture—weave their way into home décor again this season, proving their staying power.
If homeowners are looking to imbue a newer home with the timeless details of tradition, there's a project of every scale. New materials that are designed to look old will not only perform better but also last for years to come. And "timeless" is always on trend.