Five Signs You May Need a New Roof
Photo © GaryMuth - iStockphoto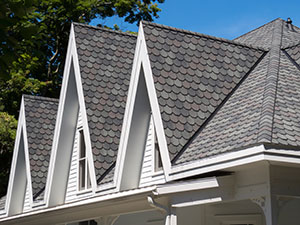 It's understandable for homeowners to opt for repairs rather than a new roof when leaks and other issues require immediate attention. However, there comes a time when it's going to be most cost-effective to opt for replacement rather than repair. A new roof is a major investment. Here are five signs that it's time to replace your roof:
1. Age of Your Roof
Residential roofs typically last anywhere from 20 to 30 years, depending on overall maintenance and care. If your roof is approaching the end of its expected life span and repair needs become increasingly frequent, then consider a replacement. Also consider how many layers are underneath your shingles. If you or previous owners have opted for re-roofing rather than replacing, the underlying structure of your roof could be significantly older than the top layer.
2. Sagging or Misalignment
When newer shingles quickly become buckled or curved, there may be serious issues with the supporting structures below the surface. You may also notice slight slopes or a subtle misalignment that's only apparent when direct sunlight hits certain parts of your roof. If you can't make a positive visual observation, contact a roofer to perform a detailed inspection.
3. Missing Shingles
Simply missing a few shingles here and there isn't cause for alarm. If shingles increasingly fall off from storms or strong winds, however, there may be damage below the surface that's preventing the shingles from staying in place. Again, you'll need to arrange for a roof inspection to determine if there's hidden damage, which may help you decide that a new roof is the better option.
4. Shingle Granules
Granules are the coating that provides added protection against UV damage on your shingles. As your roof's surface gets close to the end of its life cycle, more granules fall off, often accumulating in your gutters (which poses another potential problem). If your only problem is a loss of granules, then you may simply need to have your shingles replaced rather than opt for a completely new roof. But, if there are additional issues with the flashing (the trim around roof projections like vents and chimneys) or fascia boards (board that runs along the lower edge of the roof), then it may be time to consider a new roof.
5. Visible Daylight and Signs of Moisture
Make a trip to the attic to look for additional signs of underlying roof damage. If you see visible daylight through the roof boards or signs of water damage along the walls, you likely have damage that extends beyond the shingles. The smell of mildew is another sign of hidden moisture issues, even if you fail to find visual confirmation.
If you're planning to sell your home in the future, a new roof can be a justification for upping the asking price, not to mention an added attraction for buyers.