The Top Remodeling Projects for 2016
Photo: © dpproductions - iStock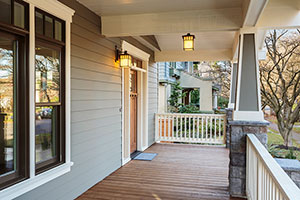 Remodeling magazine's 2016 Cost vs. Value Report recently ranked 30 remodeling projects based on how much money they recoup—in other words, how much of the initial investment a homeowner can expect to earn back when the house goes up for sale. According to the report, investing in a home's energy efficiency and curb appeal gave the best return on investment. Here are some of the renovations that recoup the most upon resale.
Extra Insulation
Improving a home's energy efficiency is one of the best investments a homeowner can make. Adding fiberglass insulation to a home attic is a relatively easy renovation; according to RemodelMax, the job costs around $1,268 nationwide. If the home were to sell within a year of the project's completion, real estate professionals would value that renovation at $1,482—a 116.9 percent return. What's more, installing attic insulation gave homeowners a return greater than 100 percent in 60 out of the 100 markets across the country.
Curb Appeal Wins
Out of the report's top 15 renovations, 12 of them were for exterior work, proving once again that curb appeal is incredibly important to home buyers. Coming in second in the report two years in a row, manufactured stone veneer also proved a smart investment with a return of 92.9 percent. Last year's number one renovation—a steel entry door replacement—still gives homeowners a bang for their buck with a 91.1 percent return. Replacing an old garage door also boosts a home's curb appeal. Midscale garage door replacements gave a 91.5 percent return on investment, and homeowners who chose an upscale garage door replacement recouped 90.1 percent of their remodeling dollars.
Outside vs. Inside
When grouped by job type, windows and siding were a better investment than new kitchens and bathrooms. Projects that replaced windows and doors saw a return on investment in the high 60 to high 70 percent range. In contrast, most kitchen and bathroom remodels had percentage returns only in the 50s and 60s. Replacing existing features with upgraded ones costs less in labor and materials than remodeling an entire room, explaining why replacement jobs have a higher cost-value ratio than remodeling projects.
Remodeling Values Are Up
No matter what renovation homeowners took on, they made more money this year than the previous one. For all 30 projects in this year's report, homeowners can recoup an average of 64.4 percent of their total investment. This is up 2.4 percent from the 2015 report; what's more, it is the second-highest return in the past 8 years.
© 2016 Hanley Wood, LLC. Complete data from Remodeling magazine's 2016 Cost vs. Value Report can be downloaded free at www.costvsvalue.com.