National Home Sales Decline, but Still Remain Above Last Year's Sales
Photo: © Brian Jackson - Veer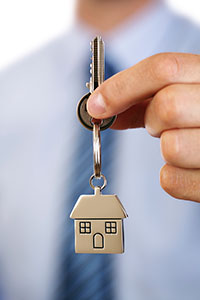 Existing-home sales in October were strong but not as strong as they were in September. Total existing-home sales fell 3.4 percent to 5.36 million, down from September's 5.55 million. Yet sales were still 3.9 percent higher than at the same time last year. Economists with the National Association of Realtors expected the slowdown. Total housing inventory fell 2.3 percent in October, and according to NAR's chief economist Lawrence Yun, the shortage put pressure on the housing market. The lack of inventory did nothing to ease the affordability issues plaguing some markets across the country. In addition, buyers had fewer options to choose from, leading to fewer contract signings. Yun also believes the recent volatility in financial markets impacted buyer demand—and home sales in turn.

The Silver Lining
If the job market continues to improve, sales should continue their year-over-year climb. With mortgage rates remaining below 4 percent for the third straight month, home buyers should feel incentivized to sign their contracts sooner rather than later. And even if mortgage rates moderately increase, a gradual easing of credit standards should temper any impact on demand and sales.

Lower and Higher
Every region saw sales slip or stall in October. In the Northeast, existing-home sales remained steady from September, while in the Midwest, sales were down 0.8 percent. The South and the West saw sales fall 3.2 percent and 8.7 percent from a month earlier, respectively. Sales might have been down from September, but every region posted year-over-year gains. Sales in the Northeast improved 8.6 percent from a year earlier. In the Midwest, existing-home sales were up 8.3 percent. And when compared with October 2014, sales in the South and the West rose 0.5 percent and 2.7 percent, respectively.

Home Price Tags
Prices also increased year-over-year. In the Northeast, the median price climbed 1.3 percent above October 2014. The Midwest and the South saw prices increase 5.7 percent and 6.2 percent above a year ago, respectively. The West posted the strongest gains, with the median price rising 8 percent above October 2014.