Study Shows Growing Trend for Green Home Building
Photo: © Chandlerphoto - iStockphoto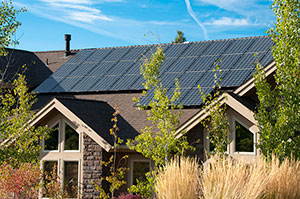 For many home buyers, green features have gone from a wish list item to a must-have. The demand for green homes is expected to increase.

Environmentally Friendly Builders and Remodelers
According to the latest New SmartMarket Report by Dodge Data & Analytics, builders are paying attention to buyers' desires for green homes. The 2015 study polled 232 builders and remodelers across the country, and it found that 54 percent of home builders and 39 percent of remodelers have gone green on at least 16 percent of their new projects. But green homes don't just benefit the environment—they also reward the builders. The green-home label connotes healthier living, and 83 percent of home builders and remodelers believe home buyers will increase their budgets for healthier homes.

Green Futures
Green homes are not just a passing trend: 51 percent of all home builders expect green homes to account for 60 percent of their projects by 2020, while 81 percent of builders will go green on at least 16 percent of their projects. Remodelers also see green futures, with 36 percent anticipating that green projects will account for at least 60 percent of their portfolio, and 74 percent plan on renovating green on 16 percent of their project sites.

Net-Zero Homes
The use of renewable technologies will increase in the coming years. According to the study, 48 percent of home builders and remodelers expect to install solar photovoltaic technologies in their homes, while 52 percent will be equipping their homes with ground source heat pumps. Net-zero homes, homes that produce as much electricity as they consume, are also in demand, with 21 percent of home builders completing a net-zero home build in the past two years.