Enjoying the Season: Five Foolproof Holiday Stress Busters
Photo: © Kuvona - Shutterstock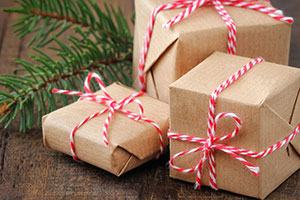 Decorations, music, sumptuous meals, and gatherings with family and friends are all hallmarks of the holiday season. Unfortunately, stress also tends to go hand in hand with this time of year. While you can't control everything that happens during the holidays, you can make wise choices that will help you be a healthier and happier person during this special time of the year.
1. Be Realistic!
No matter how well you plan the holiday meal or how much you research your gift lists for family members, you will encounter some snags along the way. You burn a batch of cookies, or someone spills coffee in the living room. The toy you thought your child would love gets ignored. All these happenings are common events and they don't have to ruin the holiday for you. Pride yourself in doing the best that you can and don't sweat the details. If you expect imperfection, you won't be upset when things don't turn out just right.
2. Early to Bed!
Sleep is essential any time of the year but even more so during active periods like the holidays. Even if everyone else is on their best behavior, you won't be cheerful if you are lacking sleep. Sleep deprivation causes all sorts of problems including irritability, inability to concentrate, emotional instability, reduced coordination, and greater susceptibility to sickness. Aim for at least seven to eight hours of sleep a night.
3. Get Moving!
Exercise is a natural way to combat stress. Physical activity releases endorphins that give you a feel-good state of mind. Staying active during the holidays also offers a means of counteracting the extra high-calorie goodies that you may have enjoyed at festive gatherings.
4. Just Say No!
Your family wants to have four different get-togethers. The PTA needs you to help with the bake sale. Before long you're spread in a thousand different directions. It's not only okay to say no to some requests during the holidays, it's the right thing to do. Overextending yourself creates personal stress and reduces your effectiveness. Focus on a few events and activities so that you can enjoy them and participate fully.
5. Me Time!
While it's wonderful to spend time with family and friends over the holidays, you still need a little time for yourself. Whether it's a long, hot bath, a hike in the woods, or a day at the spa, taking time to relax and rest is essential to keeping stress at a manageable level. Schedule a "date" with yourself and make it a priority to set time aside for doing things that relax you and give you joy.