| | |
| --- | --- |
| REAL ESTATE REEDER | May 2022 |
Buyer's, Don't Make These Mistakes in a Seller's Market
Image: Leszekglasner / Adobestock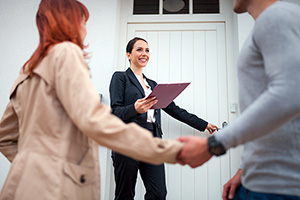 Buying a home is an exciting yet daunting experience at the best of times, buying one in the midst of a blistering seller's market takes it to an entirely new level. Be a step ahead of the game by knowing how to avoid some common mistakes.

1. Not Getting a Mortgage Pre-Approval
With so many offers coming their way, sellers have the luxury of picking the cream of the crop. Prove your ability to buy the house by getting pre-approved by a lender. Pre-approval, which involves pulling your credit and going over your financial statements, is different from pre-qualification, which is only a preliminary estimate of how much house you can afford.

2. Not Being on the Ball
In a seller's market, there could be 10 other interested buyers looking at the same property you are. When your real estate agent contacts you with a home he or she thinks you need to view, answer right away and be ready to tour the house at the seller's earliest convenience, even if you have to shuffle your other engagements. Biding your time could easily cost you a house you may love.

3. Not Coming in Strong
When you find the home you want, it's time to write a strong offer. If the house is in a good location and is move-in ready, it will likely draw offers above asking price. Your real-estate agent will advise you. Another tip: don't look at homes at the top of your price range. That way you'll have room to increase your offer.

4. Not Making a Clean Offer
A clean offer is one with as few contingencies as possible. It's very commonóin fact, practical óto make an offer contingent on the home inspection or mortgage approval, but requests beyond that may cause the seller to look at other offers instead. If the home needs serious work, like a new roof, you may have leverage. However, if you want the home repainted or you like the dining room table, itís best not to ask.

5. Not Rolling With the Punches
In a seller's market, you're going to face many other buyers all trying to out-bid each other. Itís likely that youíll lose a few homes before you win one. So don't give up after a loss. Dust yourself off and get right back in the game.

Buying a home when the market favors sellers is often fast-paced and hectic, so itís more important than ever to have the help of an experienced professional. I can help with all of your questions or concerns. Contact me today!
24311 142nd Ave SE, Kent
MLS #1919843
4 Beds | 3.75 Baths
8,238 sf | 14,175 sf lot
LISTED for $1,649,950
16645 188th Ave SE, Renton
1942035
3 bed | 2.5 bath
2,997 sf | 20,000 sf lot
LISTED for $1,049,950
22548 SE 268th Pl, Maple Va
MLS #1943170
3 Beds | 2.5 Baths
1,762 sf | 4,129 sf lot
LISTED for $724,950
NEW LISTING OPENING
1931275
3 bed | 1.5 bath
2,964 sf | 13,750 sf lot
PENDING
| | |
| --- | --- |
| Marti Reeder - (206) 391-0388 | REAL ESTATE REEDER - May 2022 |