| | |
| --- | --- |
| REAL ESTATE REEDER | November 2021 |
Is Your Home Ideal for the Multigenerational Living Trend?
NDABCREATIVITY / Adobestock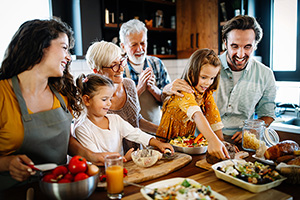 Multigenerational living continues to gain popularity, fueled in part by the pandemic. Families looking for larger homes to accommodate multigenerational living is at a nine-year high of 15%, according to data from the National Association of Realtors. The largest share of these homebuyers are people looking for a home that's ideal for them and their aging parents.

This trend gives home sellers an opportunity to showcase features such as finished walkout basements and bonus bedrooms. Intergenerational living is far easier when each family's subunit has its own space.

Play Up Safety and Accessibility Features
Before you put your home on the market, take a look at its accessibility for people who use wheelchairs or walkers. Bathrooms and outdoor spaces should have added safety features as well. A complete, accessible living space on one level means extra value for homebuyers, and they'll appreciate that you put some thought into how an intergenerational family might use the home.

Create Equity Through Home Improvement Projects
Homebuyers considering the multigenerational living style usually pool their money so they can afford to buy bigger and better homes. Often, they buy houses that can accommodate their arrangements immediately, so sellers who remodel to add a kitchenette or two complete master suites will realize a big equity return on these home improvement projects.

Home sellers should look at their homes from a different angle and consider how a multigenerational family might use the various spaces. The trend toward living together under one roof will continue to rise in the future.
25404 150th Pl SE, Covi
MLS #1867223
3 Beds / 1.75 Baths
1,160 sf / 6,624 sf lot
FOR SALE $474,950
NEW LISTING OPENING
This Could be YOU!



2042 NW Boulder Way Dr
MLS #1857084
3 Bed / 2.25 Bath
1,410 sf / 1,370 sf lot
PURCHASED for $790,000
16521 SE 254th Place, Cov
MLS #1852175
3 Bed / 2.5 Bath
19,000 sf / .5 ac lot
PURCHASED for $675,000
| | |
| --- | --- |
| Marti Reeder - (206) 391-0388 | REAL ESTATE REEDER - November 2021 |