| | |
| --- | --- |
| REAL ESTATE REEDER | October 2021 |
Try These Time-Saving Tips for a Busy Lifestyle
NDabcreativity / Adobestock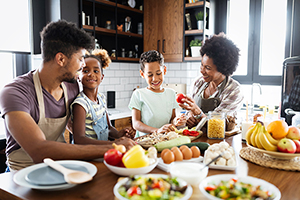 If you run a fast-paced life, where youíre always on the go, you most likely wish there were more hours in the day. Youíre not alone. Many people face the challenge of trying to fit too many obligations into an already busy day. These four tips will help you save time and accomplish tasks more efficiently.

1. Organize Your Paperwork
Organization is a huge key in saving time, and organizing your paperwork is a great place to start. Donít waste any more time sorting through piles of bills and letters stuffed in a drawer to find an important document. Invest in some files and organize your paperwork in a way that is relevant to your needs. For example, you could create separate files for the water, electricity, and telephone bills. Of course, organizing your paperwork will require an investment of time, but it will be well worth the future amount of time you will save once the task is complete.

2. Prepare Meals in Advance
If you have a demanding job, you might not have time to cook during the week. However, with a little preparation, you can enjoy tasty, home-cooked meals every day. On the weekend, prepare a casserole, soup, or any other meal that can be frozen. Scale up the recipe to make enough to last all week. Freeze the meal and eat a portion whenever you donít have time to cook. If you donít want to eat the same casserole all week, make two or three different meals, freeze them all, and enjoy a variety of healthy meals over the next several weeks.

3. Make Lists to Help Prioritize Tasks
If you have 20 chores to accomplish on the weekend, and you donít know where to begin, take a few moments to make two lists of tasksóimportant tasks and less important tasksóbefore diving into projects. Tackle the items on the list of important tasks before moving on to the less important tasks. Your list will help you identify your priorities and stay focused instead of getting sidetracked by less urgent tasks.

4. Multitask When Appropriate
Get creative with multitasking. For example, you can wash dishes while watching your favorite television show, or you could skip going to the gym and work up a sweat by vacuuming the house instead. A word of caution: Donít multitask in situations that require your complete attention, such as driving.

By organizing, preparing ahead of time, multitasking, and making lists, you will save time on your tasks and obligations, freeing up more time to focus on the things you truly enjoy.
| | |
| --- | --- |
| Marti Reeder - (206) 391-0388 | REAL ESTATE REEDER - October 2021 |