| | |
| --- | --- |
| REAL ESTATE REEDER | October 2021 |
Create a Cozy Home This Fall with These Staging Tips
Kristen / Adobestock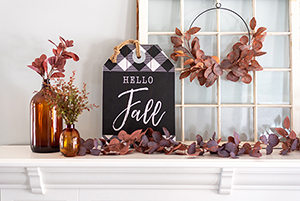 If you are selling your home during the fall, it is important to keep its exterior well maintained and create a welcoming, cozy atmosphere indoors. Here are some ways to ensure your home appeals to as many prospective buyers as possible.

Landscape the Yard
Mow your lawn and remove leaves and debris. Weed, get rid of dead flowers, and trim back all branches and foliage so that everything looks neat, clipped, and in keeping with the season. Give your flower beds a splash of color by adding some plants that bloom in the fall.

Create a Perfect Porch
Place seasonal flowers in large pots on both sides of your front door. Give your front door a fresh coat of paint and hang up a wreath made from seasonal flowers and foliage. This will provide the perfect finishing touch for your entrance area.

Display Tasteful Seasonal Decorations
Donít overdo the Halloween decorations. Prospective buyers may find it hard to look beyond the decorations and see your homeís true features and advantages. Add just a few well-chosen, tasteful decorations, such as a small collection of pumpkins at your front door.

Maintain Exterior Excellence
Is your home exterior clean and free from paint chips, or does it need to be pressure-washed and repainted? Make sure the windows are clean. Do not forget to remove leaves, foliage, and other windblown material from your gutters on a regular basis.

Keep Your Home Spotless
Remove clutter from all surfaces each day, and keep as many personal items as possible out of sight. This can be a challenge now that children have gone back to school, so ensure that they put away their schoolwork, backpacks, and other school-related items each evening.

Adjust the Temperature
Create a warm, cozy atmosphere that will encourage people to fall in love with your home. Adjust the temperature on your thermostat before each viewing to ensure that your home is comfortable and welcoming.

Create an Inviting Atmosphere
Add touches of warmth to each room in your home. Place a fleecy throw on the arm of a comfortable chair, pile sumptuous pillows on your bed, and display fluffy towels in the bathroom.

Make It Smell Like Fall
Use essential oils such as cinnamon and vanilla or naturally scented candles in popular fall fragrances to give your home an appealing aroma.
| | |
| --- | --- |
| Marti Reeder - (206) 391-0388 | REAL ESTATE REEDER - October 2021 |