5 Ways to Make Real Estate Affordable
Photo: © Abel Mitja Varela - iStockphoto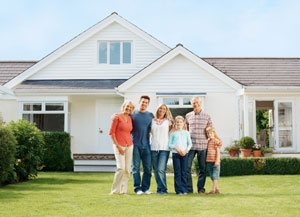 With rents rising rapidly, the appeal of leasing is waning. Meanwhile, ultra-low interest rates and deeply discounted properties make buying an appealing option. Here are some ways you can buy property, even if your income is low or your credit isn't perfect.
Consider a duplex or triplex.
Duplexes usually cost less per square foot than single-family homes, and the rent from the extra unit can make monthly payments very affordable. You'll also be able to write off all sorts of expenses. This solution is great for those with good credit and plenty of cash, but relatively low incomes.
Buy with family.
Compatible family members can buy property together. An in-law arrangement may be ideal, allowing mom and dad to help the kids and get assistance with daily living in return. Be sure to consider all contingencies. What happens if one of the couples divorces?
Buy with friends.
If you have trustworthy friends, buying a house together can work well. Banks are more willing to loan with more responsible parties, even if no one has stellar credit. Once you've considered location, put privacy and soundproofing considerations at the top of your list. The more privacy shared homeowners have, the more likely the arrangement will be amicable. Separate entrances, double kitchens, and lots of bathrooms are ideal. Consider what happens if the arrangement doesn't work. Have a lawyer draw up an agreement to cover all contingencies.
Get a cosigner.
If you're recovering from financial disaster, buying real estate may be as easy as finding a willing cosigner with great credit. Keep in mind, however, that failing to live up to your obligation can destroy a relationship.
Take in a boarder.
If you can qualify for a loan but are worried about the payments, renting out a room or two may make all the difference. Careful screening is essential, and the ideal boarder might be a trusted friend or relative.
Consider all of these options before giving up your dreams of owning real estate. Any one of them may provide just the extra help you need to become a homeowner.