Remodeling Projects That Give a Good Return on Investment
Photo: © Artazum Shiyan - Shutterstock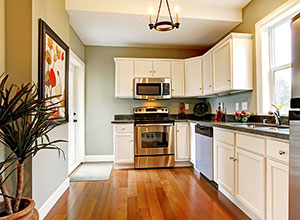 Are you considering selling your home now or in the near future? Choose remodeling projects that will give you a good return on your investment. Remember to stick with colors and finishes that are crowd pleasers, rather than looks that are more polarizing.
Install new exterior doors.
A new exterior door provides great curb appeal that potential buyers will appreciate. Safety-minded buyers will appreciate a steel safety door on the front and back of the house, which resists forced entry much better than traditional doors.
Replace the old siding.
Older siding can be cracked, dirty and sagging at spots, dragging down the look of your house. Swapping out the old siding with more modern fiber cement dresses up the look of your house, enticing buyers to look inside.
Add a bedroom to the attic.
Since most people are looking for more space in a house, adding another bedroom will increase your home's value. If the attic already has a bedroom, increase its space by installing a dormer window. Add insulation if none already exists, and install plenty of lighting in the ceiling to make the room feel bright and airy.
Remodel the kitchen.
The kitchen is one area most buyers focus on. Buyers want a modern and attractive kitchen, but most cannot afford a high-end kitchen remodel. If your kitchen's original cabinets are in good shape they won't need to be replaced. Have them refinished and updated with new hardware. Use your money on new countertops and appliances, which make a huge impact on daily food preparation and a kitchen's overall functionality.
Install new windows.
Most older homes have older windows that make the house look dated. New windows carry an additional benefit since they are more energy efficient, promising to save a potential buyer on both heating and cooling bills. Installing new, energy-efficient windows will help your home attract more attention from potential buyers.
Refurbish or replace the wood deck.
A wood deck provides an attractive place to sit and enjoy the backyard, and so it is an important feature for any house. If your deck is splintering, the paint is peeling or loose boards are visible, it is time to refurbish it. If the deck is beyond refurbishing, it will need to be replaced.
Update the bathrooms.
Bathrooms, like kitchens, tend to show their age more than other parts of the house. A small bathroom shouldn't be expensive to update, since the toilet and bathtub are usually neutral colors and are in good shape. The bathroom flooring, the sink and the cabinets may need to be replaced to add storage and update the look. Don't forget to swap out the bathtub faucet and shower head with something that matches the new sink faucet. Add a coat of paint to the walls and the bathroom will wow people as they tour your house.