National Home Sales Remain Above Year-Ago Levels
Photo: © Leaf - Veer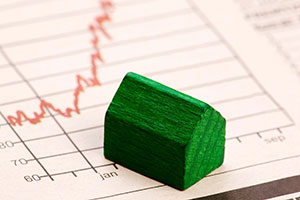 When it comes to predicting immediate future sales, economists rely on the Pending Home Sales Index. It tracks the number of contracts in the housing market, not closings. And while July's pending home sales were down a slight 1.3 percent, they were still 6.7 percent above last year's level. What's more, for the past 27 months the index has stayed above year-ago levels.
Rising Mortgage Rates
The slight dip in the index can be blamed on rising mortgage interest rates, which have hit their highest level in two years. But a lack of housing inventory is also forcing the index down, as are steadily increasing home prices. The Northeast and the West felt the brunt of too few homes on the market for too high a cost. The index fell 6.5 percent and 4.9 percent in the Northeast and West, respectively. To avoid affordability problems, new home construction needs to ramp up.
A Little Help
The index was helped, however, by stronger markets in the South and Midwest. The South saw an increase in the index of 2.6 percent. And although the Midwest reported a drop of one percent, its PHSI is still 14.5 percent above 2012's index.
Higher Sales, Higher Prices
Yet overall, contract activity remains elevated, which is why economists with the National Association of Realtors are not worried about the slight dip in the PHSI. Their projections show an increase in existing-home sales of 10 percent throughout 2013; sales next year should be even higher. The lack of housing supply in some markets, particularly the West, will lead to an 11 percent rise in the national median existing-home price in 2013. Rising construction in 2014 should ease inventory shortages, dropping price gains to a more reasonable five or six percent.
Busy Builders
One reason for the expected rise in new construction is an improvement in builder confidence. In August, the National Association of Home Builders/Wells Fargo Housing Market Index (HMI) climbed three points to 59, the highest level in almost eight years. Those inventory shortages and climbing mortgage interest rates are motivating many buyers to start the home purchasing process before they are priced out of the market.