Seven Guaranteed Ways to Scare Away Buyers When Selling Your Home
Kosoff / Adobestock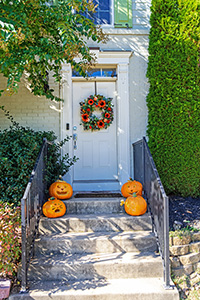 Selling your home takes a combination of preparation and hard work. However, your chances of selling will be hindered if you make any of the following common mistakes before welcoming a viewer into your home.

1. Overly Quirky Decor. Overly quirky artwork and ornaments should be toned down. Replace excessively striking accessories, paint colors, and floor coverings with more neutral versions. Try to present a generic style that won't offend anyone's taste. You want to give your viewers a blank canvas so they can imagine their own decor and furnishing choices.

2. Signs of Dampness. Anything that suggests a water problem, from slightly stained walls to small patches of mold, will be an instant turnoff for any homebuyer. Even if the issue is from a simple spill or a leaky faucet, be sure to fix the underlying problem and remove signs of damage. Serious water issues are expensive and a hassle to fix, so few buyers will take the risk.

3. Lingering Bad Odors. Every home picks up its own distinctive odor over time; you probably don't even notice yours. However, viewers will definitely notice, especially strong odors caused by pets, tobacco, or greasy cooking. Even mild smells can be off-putting, so deep-clean your home from top to bottom before listing. Clean the carpets, drapes, and soft furnishings, or hire a professional to remove all possible traces of unwanted odors.

4. Outdated Kitchen or Bathroom. Your kitchen and bathroom are two functional rooms that need to be move-in ready if you want to attract a buyer. Upgrade the most outdated appliances, make sure any necessary repairs are made, and give the cabinets and appliances a thorough cleaning so they look as new as possible.

5. Dark, Dingy Rooms. Bright, spacious homes are the most welcoming. If your home is full of dark corners and dingy rooms, clear plenty of space around your windows to let in as much natural light as possible. Use lamps to brighten up any gloomy areas and make sure to turn on all your lights before a viewer arrives.

6. Cluttered Rooms. If rooms are crowded with unnecessary furniture or overflowing with decor items, they'll feel claustrophobic to a visitor. Declutter each room to maximize the sense of space.

7. Signs of Pests. Roaches, rodents, and raccoons all make unwelcome houseguests. If you discover an infestation, call a professional pest control service. Make sure you keep a dated receipt or invoice, which you can use as proof that you've tackled the issue before selling.