Home Decor Trends for 2013
Courtesy of Brandpoint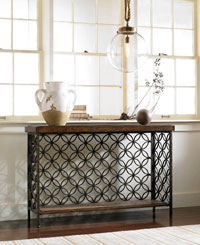 Despite its negative reputation, the number 13 doesn't always have to be unlucky. Take these top decor trends for 2013 from design experts, manufacturers and trend forecasters across the country. They're fresh, fun and sure to bring good fortune to any home.
Color: Emerald Green for 2013

Industry leader Pantone's annual fashion color report sets the tone for home decor as well as clothing, and the spring 2013 report is no exception. Its softer-hued palette of Dusk Blue, Lemon Zest, African Violet, Grayed Jade, Linen and Tender Shoots is emboldened by Monaco Blue, Poppy Red, Emerald and Nectarine—the lively, lush Emerald is Pantone's color pick for 2013. Marc Thee, founder of the No. 1 residential interior design firm in the country, also sees a move toward pure color palettes such as cream and sea glass, khaki and white, or neutral with a pop of yellow.
Kitchens: Cooking Up Smart Ideas

Next year's contemporary kitchen will include European frameless laminate cabinetry, multi-tasking appliances, hands-free faucets, and increased smartphone and tablet functionality, according to Jamie Gold, a certified independent kitchen and bath designer in San Diego, Calif. Value-oriented remodels will remain popular, she predicts, with homeowners incorporating existing flooring, fixtures, cabinets and/or appliances into their design plans to save money and retain favorite design elements.
LED Lighting: Let It Shine

Jeff Dross, senior product manager of Kichler Lighting, says energy-efficient LED products will continue to dominate lighting, and will be prevalent in coves, tray ceilings, toekicks, and under and above cabinets. Chrome and polished nickel will appeal to the emerging "Y" generation and baby boomers modernizing their retirement homes. Tall, slender outdoor lanterns in contemporary, cottage and transitional styles will work well for those in smaller urban spaces.
Home Furnishings: Heavy Metal and Reclaimed Wood

Susan Goldstick of Susan Goldstick, Inc. predicts home furnishings will also shine in 2013. New metals such as rose gold and gun metal will be mixed, and pierced, hammered and oxidized textural metals will be especially popular. Vendors will add metal to their wood pieces, and faux animal print metallics will provide texture and reflective light in the textiles arena.

Next year's trendy furniture will boast reclaimed wood or reclaimed-looking synthetic wood, according to Lenny Kharitonov, president of Unlimited Furniture Group, Inc. Combinations of wood and metal will be popular, such as a desk with a wood top and an iron base. Thee also sees a new freedom to mix metals, linen or stone into wood, with the juxtaposition of materials and finishes creating a beautiful combination.
Home Interiors: Keep Comfortable

Even as the economy shows signs of improving, homeowners still find comfort in "cocooning" in the warmth and safety of their homes, says Graeme Smith, conceptual designer at Second Nature kitchens. Adding an on-trend color such as cranberry or velvety chocolate to a soothing palette of muted tones and delicate detailing creates timeless interiors, and incorporating vintage pieces fosters a sense of nostalgia, heritage and solidity.
Flooring: Porcelain Tile

Lori Kirk-Rolley, senior marketing director at Daltile, notes that one of the biggest style trends of the year will be porcelain tile that emulates the look of hardwood in high-traffic areas, offering the natural beauty of wood with the long-lasting durability and ease of maintenance of tile. Rectangular-sized tiles—particularly those in long, linear plank styles—will remain popular in floor and wall applications.
Home Accessories: Back to Nature

Consumers' eco-friendly focus on using organic, sustainable materials will continue into 2013. Orange, Calif.-based Budget Blinds recommends woven wood shades made from bamboo, grasses, jute, reeds, rattan and other natural renewable resources for honest, simple beauty. Smith suggests using timber and wicker furniture, ribbed and woven finishes on accessories, and layered wool throws in the living area of the kitchen to bring a sense of the outdoor into the home.
Repositionable Wallpaper: A Great Decor Idea

Repositionable wallpaper is a decorating mainstay, says Todd Imholte, president of Murals Your Way, whose website, www.muralsyourway.com, is the top online destination for wall murals worldwide. The company's 10 collections of peel-and-stick wallpaper are available in such themes as Vintage, Dots, Flower Prints and Mostly Modern, and can be removed and reused hundreds of times without losing their adhering qualities. Because the company offers color matching, customers can match their repositionable wallpaper to an existing paint color, updated decor or the new Pantone color palette.
Materials for the Outdoors: Eco-friendly

Exterior design and landscaping say just as much about a home as its interior architectural counterparts. Artist and designer Pablo Solomon touts stone, concrete and brick that blend into the environment, requires little upkeep, and is superior to weather susceptible wood decks, rust-prone metals and dulling plastics. He also sees increased use of eco-friendly native plants to save water and reduce pesticides.