Sensational Decorating Trends That Modernize Your Kitchen
Aldeca Productions / Adobestock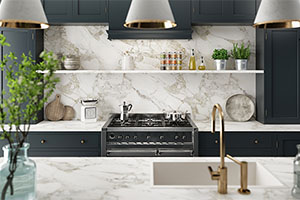 Whether you prefer a traditional kitchen design, something more modern, or a completely unique space, there are so many different kitchen styles trending right now. Youíll be sure to find some inspiration with these options:

Marble Material | A marble backsplash is a very trendy option, with marble being the hottest material for kitchens this year. Look for a piece with a strong, visible vein, and consider continuing the marble with countertops or other parts of your kitchen.
Push-open Cabinets | Push-open cabinets provide a clean, sleek look that goes well in a modern space. Kitchen cabinets are losing their handles this year. Consider opening cabinets and drawers with a small push instead of a pull.
Walnut Finish | Walnut is a beautiful finish that can bring a sophisticated style to your kitchen. Walnut is a strong, attractive choice for cabinets, furniture, and even countertops.
Wallpaper Is Back | Wallpaper is back, and itís in the kitchen. Wallpaper was once seen as outdated, but modern wallpaper has a lot more to offer than your grandmotherís. Opt for a geometric pattern or try a monotone with texture. Peel-and-stick paper makes it easy to change up the look.
Black Is Trendy | Black is the trendiest kitchen color this year. To add drama to your kitchen, extend black to your countertops and even to the walls for a bold, modern choice.
Gold Metal | Gold is the metal of the moment when it comes to your kitchen fixtures. Choose gold for your sink hardware, light fixtures, and other metal elements in your kitchen.
Tile Backsplash | Tile backsplashes that extend all the way to the ceiling are on trend. Choose subway tiles or another trendy backsplash material that is neutral enough to take up a lot of space.
Mixed Metal | Mixed metals are in, meaning you no longer have to match all the metals in your kitchen. You can have a copper sink, stainless steel lights, and rose-gold handles on your drawers and cabinets. Mixing creates a fun, eclectic vibe.
Vintage Plates | Vintage plate racks create a beautiful look thatís always in style. Display your most elegant dinnerware while dressing up your kitchen in a granny-chic way.
Pendant Lights | Pendant lights suspended from the ceiling can be any size, but large lights are eye-catching and make a bold statement. Hang your lights over an island or a food prep area.
Rounded Edges | Curved islands and countertops are in, while corners are being phased out. Choose an island with a rounded edge to bring some curvy style to your counters.

Your kitchen should bring you joy. Consider these fantastic kitchen trends to update your space this autumn.